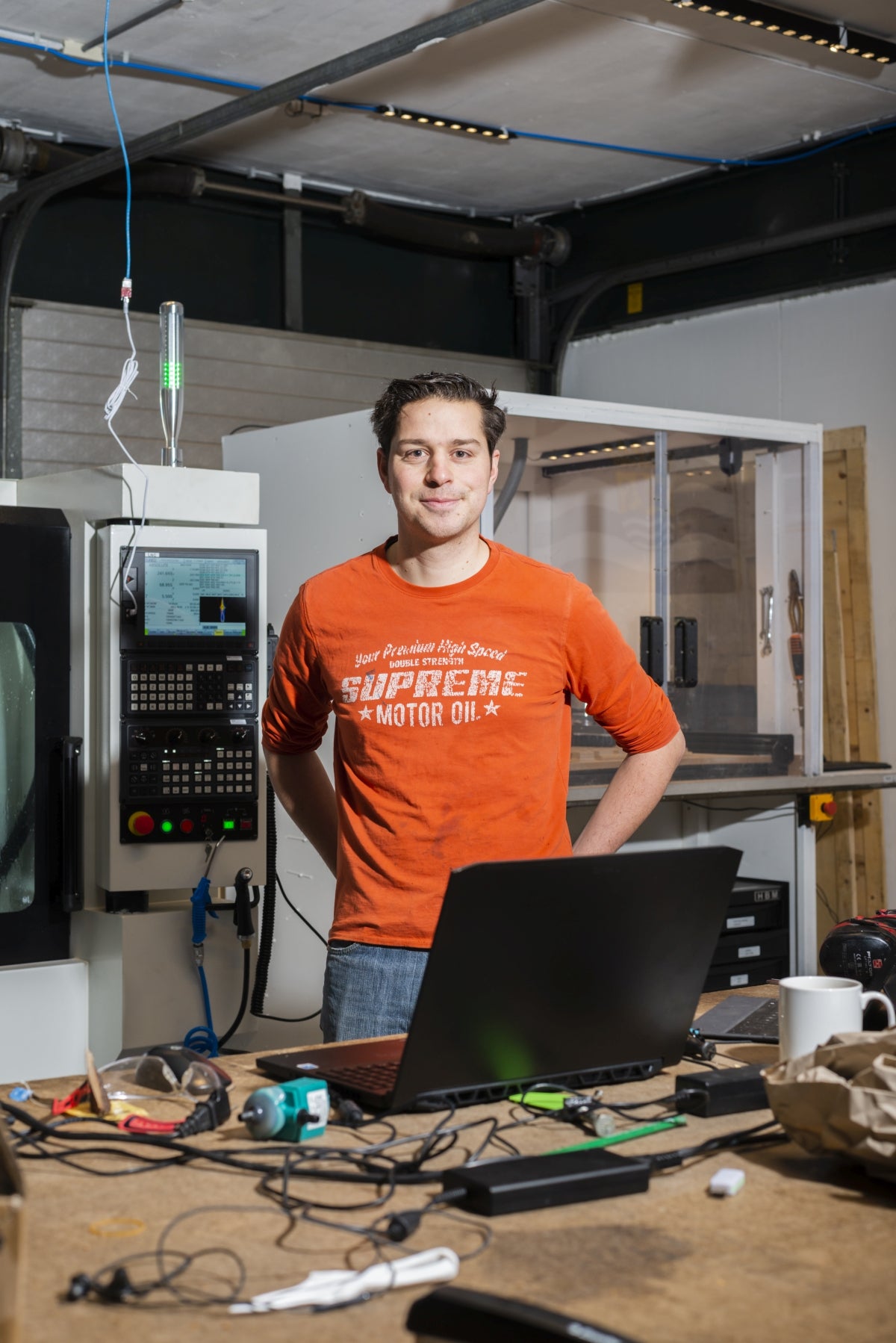 The oyster knife company
My name is Alexander Bol and I'm the founder of Emergo Designs. In 2014 I started my company out of my love for design and my families oyster heritage. My family has been growing oysters for more than 100 years in the "Eastern Scheldt" estuary. In Yerseke, the Netherlands, to be precise.
I studied engineering and this company is a way to combine oysters and design together. I make my shuckers both by hand and with CNC to create a unique culinary pieces. I'm a part-time knife maker, but hope to grow this into a full time occupation.
I have made and sold over 150 knives to more than twenty different countries. I am delighted to make a custom oyster shucker for you.
Why Oysters?
Family heritage

My dad and his brothers had an oyster and mussel fishing company together: H.Bol en Zoon BV. As a child, I happily spent my summers working on our family's oyster fishing ship. It's really special to be out on the water and I look back with great memories.

Photo: An oyster grown by our family company H. Bol & Zn. BV.

Fishing in Yerseke

Yerseke is the Oyster capital of North West Europe. Here my father and his brothers used to have their two fishing vessels: Ye 123 Hugo Senior and Ye 86 Jacomina. Both these boats were named after my grandparents and I have named 2 of my knives after them. My dad retired in 2015, however my nephew is continuing the oyster farming business. And I keep connected to this heritage with Emergo designs. Our goal is to make oyster shuckers that enhance the compete oyster experience.

Photo: My uncle and nephew still fish with the Ye39 fishing vessel.

Current workshop

My first oyster knives were made in our oyster packaging facility in Yerseke. Nowadays Emergo Designs is located 20 minutes away in Vlissingen. But like everywhere in the province of Zeeland, the water is never far away.

Photo: The first Emergo Designs workshop.
Innovation in opening oysters
I don't think that there is a company in the world that is more dedicated to making oyster knives. We stopped making all other types of knives to focus a 100% on shuckers. Why? Because our dedication to open these shellfish allows us to learn and innovate. Oyster opening tools for us are not a side product to complete the line up, they are the line-up!
Some Emergo Designs innovations:
Introduction of powder metallurgy steels and titanium as blade materials

People always viewed oyster knives as throw away object. ''With every case of oysters you'll get a new one''. But I find this a bad habit. As a craftsman I buy quality tools to have easier work with better results. So why not do the same for your oysters knives?I started to think about materials in a way to create heirloom pieces. Knives that lastmultiple generations. I find it amazing that they still find hand forged viking swords. A master of the craft made that blade a 1000 years ago.In order to create lasting oyster knives I've been experimenting with the materials. First I started with Powder metallurgic steel. Very fine metallic powders like steel an vanadium are molten in a crucible. The advantage verses regular steel is that the crucible is air-tight. This means that there is no contact with the air and thus there is much less contamination. Thus, the steel is super pure and won't rust. And the grain of the steel is super fine. Coarser grains is bad because it's easier for the tip to break.In 2022 I've introduced Titanium as a blade material for shuckers. Normal titanium is too soft for knives, but oyster shuckers aren't ''normal knives''. The grade of Titanium that I use is anaerospacegrade. They make the landing gear of commercial airliners from the same material. This because it's lightweight and because it can take an impact. Or handle an oyster!Innovations is only possible because of Emergo Designs focus on oysters. Because we make shuckers all day long, I understand what needs there are and where to try to improve. 
Unique blade geometry that does not damage the oyster

Back in 2014, when I started Emergo Designs.  And designing the blade tip was one of the most difficult challenges. As a maker you are trying to find the balance between unbreakable and unusable. If the tip is very thick, it's impossible to break. But it's also impossible to open an oyster. Go too thin and you've created a very expensive throw away oyster knife.On top of this difficult balance, you've also got a very diverse customer base. People who've never shucked oysters buy my knives. But also professionals that do a 1000 oysters per week. The first group has less experience and will ask more of the durability of the knife. But the second group wants to go quicker and thus thinner. I tried to solve this dilemma by innovating a different blade geometry. My philosophy is ''Pointy, not sharp''.I feel that an oyster knife doesn't needs to be sharp. Instead of cutting the oyster meat, you can scrape the abductor muscle from the shell. Julie from In a half shell blog demonstrates thisperfectly. here: https://www.instagram.com/p/CfVdLKfA-UE/. And because there is more material in the blade it can endure more and tougher shucking.
Circular recyclable oyster knife (HUGO)

It might sound awkward, but 2020 was an amazing year for me.Despite the Covid, the postponed wedding and the lockdowns, Emergo Designs came out for the better. When the first Covid wave hit the Dutch hospital system, there was a big shortage of protective goods. My wife and I started a small initiative to 3Dprint and CNC mill ''some'' faceshields. This exploded into a national initiative where we managed to print 1000+ faceshields. With over 200 people involved and manufactured within 3 weeks. It was a very intense time where we had to make a lot of difficult choices under pressure. But my wife and I did kind of great and we are very happy with the impact that we've been able to make.The experience forced me to reflect on my Emergo Designs oyster knife business. I wanted to buy a CNC mill for years, but was also very cautious with big purchases. The faceshield project gave me the confidence to go look for financing. That's when I started to develop the ''Hugo'' knife concept. A knife that's made out of a solid block of titanium. I wanted to make such a knife because it involves less hand sanding and less dust. Also, I didn't need to use solvents and glue to fixate handle scales. This is much better for my health, especially if I want to keep doing this for many years to come. A friend pointed out to me that this oyster shucker was almost circular in design. All the components are recycle-able. Also there are no chemicals involved in the making and no material goes to waste. And he told me that there is a local government investment fund. With a program for circular product development. I pitched and got a grant from the program. I also invested every personal penny that I had and at the end of 2020 the CNC machinewas placed in my workshop. Now the Hugo circular oyster knife is available. It's long-lasting titanium replaces the throw away oyster knives. Because there are no glued wooden or plastic handles, the recycling is very easy. Either you send back the knife to us, or you hand the titanium in at a local metal dealer. Because titanium is a valuable material the scrap price cover the shipping costs. The case is also free of paint, polymer-based varnishes or solvents. If you love to eat oysters, then you are loving the sea. By keeping the seas free from plastics and chemicals, your seafood will taste even better.
High end gift packaging for each shucker

How to package a unique knife is always a difficult question. And it's different for each maker. Pocket knives live in your pocket. Chef's knives live in the kitchen block. But where do you put your oyster shucker? As a maker I hope it's not getting scratched in the kitchen drawer. When I started to completely focus on oyster knives, I knew I wanted to improve the packaging. Buying one of my knives is special and I should present these opening tools as such! As a first improvement I bought a CNC machine to mill wooden cases to package the knives is. The designs are elegant and complimentary to the knife. Later I added a Laser engraver that makes even more possible. I now have to option to add logos, names, dates or other personal messages. Now I hear from customers that they love the knife and how it handles oysters. But that they also adore the case and have it on display in their houses. One customer gifted a knife to his father. He said: ''The case is on display in a prominent position with his other dear items. On those special Saturdays, my father picks the knife up and cleans it. Then he goes to the fish market to buy oysters. Afterwards he goes to the wine store an picks a special bottle of wine. In the evening it all comes together for special occasions. Friends, oysters, wine and his special oyster knife. It's a ritual that repeats itself every few weeks''. As a maker, I couldn't be happier then to have contributed to this beautiful habit.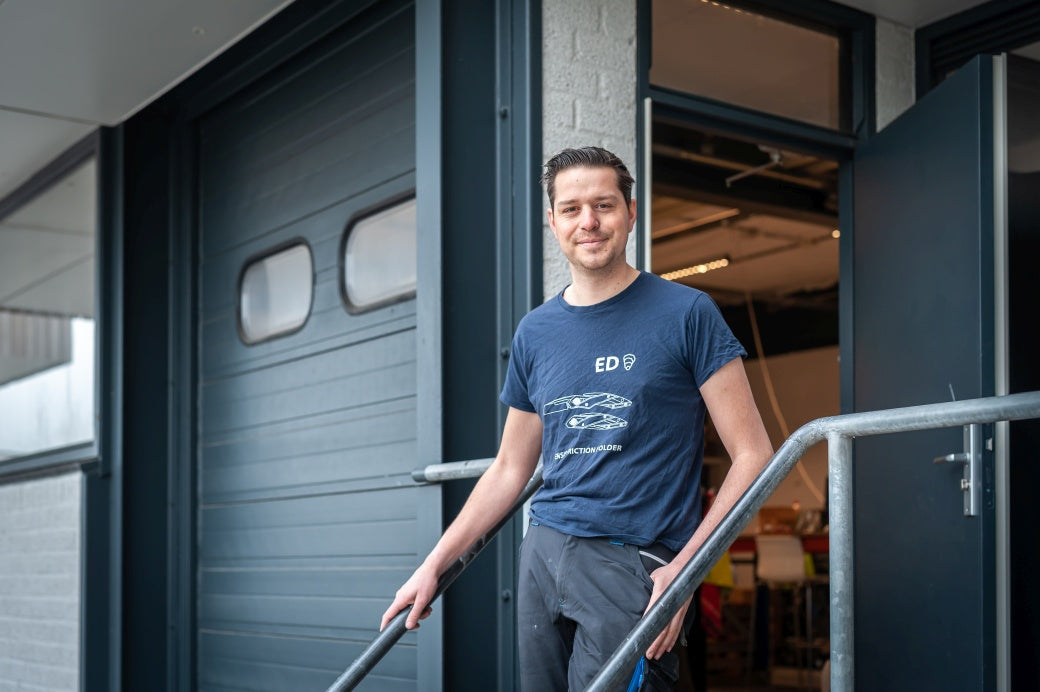 Watch Emergo Designs at work
Our core business is oyster opening tools. But while we are further developing the market, sometimes we take on other jobs. For instance CNC job shop or 3Dprinting. We use the tools and machines we usually use for knife making, but produce customer parts instead. This is for local customers in the Netherlands. However it might explain why you've found another website.It's the same company, same faces and same machines.
Read more in my blog